SUPER BOL D'OR page 12

Well thrillseekers. The shed's complete. The weather is warm, and what have we here??



If I didn't know any better, I'd say that's a line of panels waiting for a top-coat??

Yes. I believe this guys has pulled his finger out, and has finally got around to spraying that uber-expensive Electric Orange pearl paint he's had for about 6 months.




Wow! shit-fucking-hot!!




Can't wait to see that clear-coated. Can you imagine how great that will look then?? And with the decals??

Spent some time waiting for paint to cure, but eventually got my decals on. Now they need to sit for a couple of days.



That's all you get until the final clear goes on ;-)
Well. 38 degrees C (100) with a hot north westerly blowing a gale. Perfect bushfire conditions here :-(

The thermo-meter in the garage just hit 50 degrees (120), so I'm outta there. I think my poor old beer fridge is about to self-destruct, so I might have to empty it in a pre-emptive, new years eve stike :-)

On the plus-side, I did manage to clear-coat everything yesterday when it was a mild 30 degrees (85?):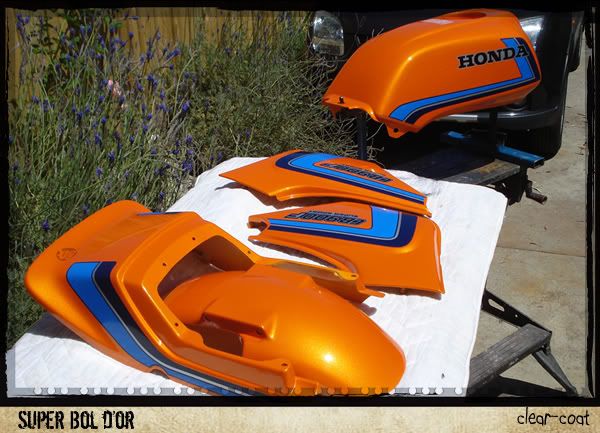 Makes baking them a little easier too ;-)