SUPER BOL D'OR page 15

Here's a couple of engine mounting pics. I'm sneaking up on this thing at the moment, but there's light at the end of the tunnel.



Obligatory frame-protectors. This is my new 'preferred method' of installing motors now. Just so much easier.

On her wheels, and on the lift. Things just get bolted on from now on.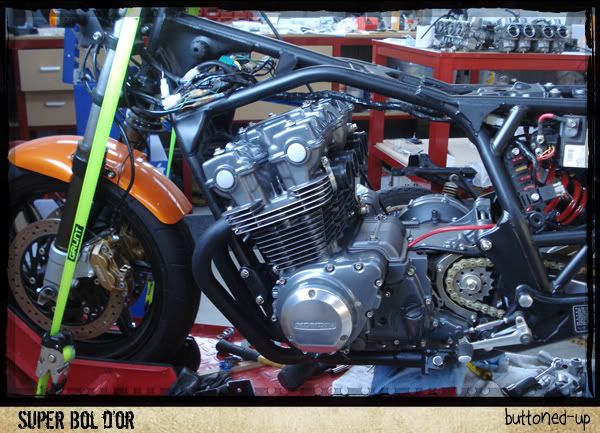 After all the work cutting and filing on the countershaft cover, I'm thinking I might leave it off now to expose the sprocket/chain/guard.

I have a couple of small clips for the front brake lines to source, and the healight mounts I have are really bulky at the back and interfere slightly with tank on full lock. I want to replace them with thinner versions.
Well guys. Having succumbed to the great Aussie tradition of chucking a sickie, I've had her out, and for now I'm calling her DONE!

Had a bit of a blast on the nicest first day of winter I can remember. Sunny and 19. No wind. Did about 40kms just to suss things out, and there doesn't appear to be any major issues. Everything works as it should (although I still haven't replaced the headlight ears - so I need to be wary of the steering lock issue). Suspension is great. It turns in really quick, which almost caught me out a couple of times. Front brakes are awesome! The pods suck bad. The lack of grunt is really noticable. One day I'll replace the carbs, but for now they do.

Any way, enjoy some pics:




The Place for Pace (apparently)-as long as you don't exceed 10kph ;-)

and finally some video. Ignore the clutch rattle, it's not as bad as it sounds on my crappy still camera: